Witchcraft
Talk

0
85pages on
this wiki
Redirected from Witch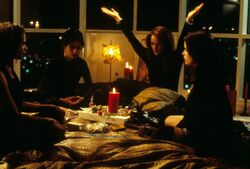 "I think it's totally possible that you could get hooked to the Craft just like alcohol or food."
Witchcraft, sometimes called the Craft, is the use of magic. Practitioners of witchcraft known as witches call upon supernatural forces such as gods and spirits to change outcome and end, also known as spell casting. Witches are also known to bend the universe to their liking simply through will. In a deleted scene, Rochelle explains that witchcraft can be addictive if used improperly.
Etymology
Edit
The word "witchcraft" comes from the Old English word meaning "craft of the witch".
Magic is a mystical force in which witches have a great understanding and power over. Natural witches are born with the inherent ability to use magic, while spiritual witches must take time to perfect their powers. Magic is described as "netural", meaning it is neither black nor white. The color of magic depends on how the witch uses it. Black magic is exhibited to be very corruptive. As a witch practices, she acquires more powers such as telekinesis, levitation, glamouring, telepathy, weather manipulation, etc.
A coven is a gathering of witches who come together to practice and celebrate sacred holidays. A complete coven is composed of four members who each represent a cardinal point as well as an element corrosponding with that point. Each element has a unique characterisitc to in which each girl embodies. For example, Sarah's element is earth and she is presented as grounded and motherly, while Nancy embodied fire and was presented as wild and destructive.
Practices
Edit
There are many practices that are involved with witchcraft such as chanting, spell casting, meditation, calling the quarters, or worshiping a specific deity.
Known witches
Edit