"The Craft"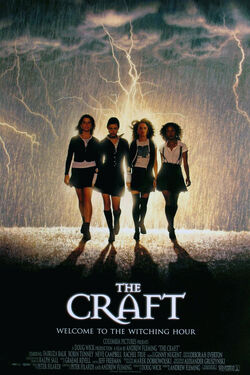 Distributed by
Columbia Pictures
The Craft is a 1996 American horror film directed by Andrew Fleming and starring Fairuza Balk, Neve Campbell, Rachel True, and Robin Tunney. The film's plot centers on a group of four teenage girls who pursue witchcraft and use it for their own gain. The film was released on May 3, 1996 by Columbia Pictures.
Four girls at a Los Angeles Catholic school form a coven of witches that cast spells on their classmates and each other. Their new powers overwhelm them, leading to an internal power struggle. Sarah Bailey, a sixteen year old troubled teenager with a painful past and history of suicidal tendencies and hallucinations, moves to L.A. with her father and stepmother to start a new life. She is soon enrolled into a Catholic school where she comes into contact with three unlikely friends, Bonnie, Nancy and Rochelle. The three girls dabble in occult practices, and when they notice that Sarah has the powers of a natural witch, they talk her into joining their coven. After Sarah agrees to accompany the girls in their group, they soon discover that with a fourth witch in the coven, they are able to cast spells more powerful than they could before, and begin to amend all the things wrong in their lives. However, like everything else in life - things come with a prices.
Reception
Edit
The movie was a sleeper hit. According to BoxOfficeMojo, The Craft is the 8th highest grossing movie since 1980 dealing with the genre of witches.
A straight to DVD sequel was in the works, but it was terminated.
Characters
Edit
| | | |
| --- | --- | --- |
| Actor | Role | Description |
| Robin Tunney | Sarah Bailey | Sarah was a natural witch with a painful past of suicidal tendencies. After moving to Los Angeles with her father and stepmother, Sarah was introduced to her witchy powers after joining Nancy's coven. |
| Fairuza Balk | Nancy Downs | Nancy was a spiritual witch with a painful past of abuse and neglect by her alcoholic mother, and her molesting stepfather. After Nancy began dabbling with the occult, she and her friends (Bonnie and Rochelle), decided to form a coven. |
| Neve Campbell | Bonnie Hyper | Bonnie was a spiritual witch with a painful past of bullying after severely burning herself in a house fire. Bonnie was a close friend of Nancy who convinced Bonnie into joining her coven. |
| Rachel True | Rochelle Zimmerman | Rochelle was a spiritual witch with a painful past of bullying and racism, due to the fact she was the only African American student in her high school. Rochelle was a close friend of Nancy who convinced Rochelle into joining her coven. |
| Skeet Ulrich | Christopher Hooker | Christopher was a womanizing playboy who falls under the spell of Sarah and her coven. |
| Christine Taylor | Laura Lizzie | Laura was a mean and popular playgirl who took great pleasure out of tormenting Rochelle. |
| Assumpta Serna | Lirio | Lirio was a natural witch and also the owner of a local occult shop in Los Angeles. Lirio is seen as a mentor of Bonnie, Nancy, Rochelle, and Sarah as she teaches them about the beauty and danger of witchcraft. |
The producers hired a Wiccan consultant, Pat Devon, that was apart of the largest coven in the United States (Covenant of the Goddess) and was used to give information about witchcraft, along with Fairuza, but Pat mostly helped out in departments that Fairuza couldn't since Fairuza was in early stages of practicing Wicca.
Fairuza Balk is a practicing Wiccan and on set often read books about Wicca and witchcraft like The Qabalah.
When the four actresses did the "Invoking the Spirit" scene, the tide would rise. At one point, it washed their altar out to sea. Another time, when Fairuza yelled "Manol, fill me!" all of the power to the cameras went out.
The producers had to use a fake diety name to prevent teenagers to run down to beaches and invoke a real spirit.
The movie began production in September 1995. Filming didn't take place until 1996.
Pat Devin recalls hearing the death of TV's most famous witch, Elizabeth Montgomery on the radio while she was working on the set for The Craft.
Pat Devin, the Wiccan consultant for the film, stated that the girls were not practitioners of Wicca. They were just "playing around with magic".
Rachel True was the eldest one of the girls, being nearly 30 at the time while Robin Tunney was 24, Neve was 23 and Fairuza was 22.
Rachel True and Neve Campbell are still good friends.
The girls are seen watching the 1964 television series Bewitched at one point, which is a TV show about a witch who marries a mortal man.
Pat and her coven used a chant to help the film do well and it ended up being the number one film in the box office at it's time.
The producers intended on a PG-13 rating but had to be rated R because the film delt with teenagers practicing witchcraft.
The DVD was released on July 2, 1997.
There is a deleted scene where Nancy uses a glamour to make Sarah think she stabbed her with a knife.
Ad blocker interference detected!
Wikia is a free-to-use site that makes money from advertising. We have a modified experience for viewers using ad blockers

Wikia is not accessible if you've made further modifications. Remove the custom ad blocker rule(s) and the page will load as expected.